Discussion Starter
·
#1
·
I have been gone all week and could not get pictures before now - sorry.
It is raining here today, so had to do these inside where the light is bad - so not the best... Just click the pic to make it bigger.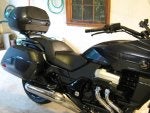 I have always been worried about the "leaned back" look of the back support pad, but the wife says it feels ok.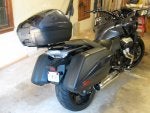 I like the way it looks on the bike - this was another worry of mine...
It holds two helmets, but that is not why I got it. I am not too worried about the tiny weight limit, we will pack it to the gills with clothes and such. My wife will probably make a liner for the top case like she did for the saddle bags.
Pops right off just by lifting the carrying handle.
Attaches by two points and the latch - all very beefy.
The lock tumblers are in. I will go pick them up after breakfast...