Discussion Starter
·
#1
·
For the past couple of days I have been working on installing 3 electrical projects on my CTX. May be crazy for doing all three at once because most people would advixe doing one at a time to make sure it works before moving on to the next one. But there are so many parts and pieces that have to be removed from the bike to accomplish each one that I was not about to go thru that three times!
The projects are:
1. Install a Trailer Isolation Relay Harness and 5 to 4 Wire Converter package made by Kuryakyn. Since the lighting on the CTX is all low-voltage LEDs you can't just tap into the wiring like you can on vehicles with 12v incandescent lighting. It might be possible to do that if your trailer is set up with LED lighting, but I have been advised that it still makes sense to install an isolation relay anyway. Also, the wiring on the CTX uses 5 wires for running lights, L & R turn signals, brake lighting instead of 4 that is more usual. So there is need for a 5 to 4 wire converter also. Kurakyn makes both of these packages so they work in conjunction with one another utilizing compatable connectors in the right places and includes a set of directions that seem complicated at first, but after a little study are actually very simple. There are just a lot of parts and connections to make. The 5 to 4 wire converter is the one listed for the Gold Wing. They have none listed for the CTX yet. Doesn't matter. They are both LED equipped and are 5-wire type bikes.
2. Install a 3-Circuit Accessory Fuse Box for running some accessories. I bought this one from Beaver Electronics in China. They are the only source I have found for buying connectors an pins that are exact replacements for the ones on bikes. They have all kinds for all brands of bikes and autos. It is run by an American named Jim and I guess he has moved there. Anyway, he also sells other things like the fuse boxes. Everything is made very well. I found him when I was searching for a source for connectors to make a part I needed for the Trailer Isolation Relay. More on that later. This fusebox has one circuit that stays hot all the time which I use for powering a 12v lighter socket for my GPS unit. The other two circuits are hot when the bike is on and would be good for things like accessory lighting and such.
3. Install a Dynojet Power Commander module (Yahoo! More power). These are available at Powercommander.com. Although they only have one map so far and it is for stock air cleaner and stock exhaust, I am sure they will soon have a map for K&N filters and if anyone ever markets some exhausts they will create a map for that also.
The hardest part of getting the bike ready is that you have to remove the top shelter, which is that part that covers the gas tank and to get that off requires taking off a ton of other parts on each side. There is probably no way I would have been able to do it without the shop manual to clue me in to where different screws, buttons, tabs, grommets and push pins are located. That was a pain and in the process I somehow broke one of the slots on the left side cowl where a tab goes from that little black cover over tha battery on the left side. Now there is a big gap where the two pieces meet. There was always a gap even when it was new, but now it is a big gap. Stupid design, Honda.
Attached are a bunch of pictures. Hopefully I can make them make sense.
The hardest part of all of the installation was finding suitable places for all this stuff. Since the battery is in the front of the bike instead of under the seat like most bikes, I had to get pretty creative in routing wires. Especially for the fuse box. I could have extended all the wires so I could locate it under the seat and make the wiring still reach up to the battery, but I hate making connections like that. So I found a place in the front to put it where it is close to the battery.
The other difficult part was getting the Power Commander hooked up to the two big ECU connectors on the top of the bike. There is very little room and the harness from Power Commander is very stiff due to all the wires in those two connectors. They will connect up fairly easily, but the one on the right now gets into the space required for the storage box on the right side of the cowling and it is hard to get it tucked in enough to allow the box to be reinstalled. Lots of time trial fitting the top shelter to see if I could get the box in. Finally found a way to zip tie it tight to something so it would stay out of the way.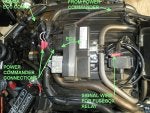 The other fun project was finding places to tuck all the parts for the lighting and isolation harness, but I think I successfully found nice little hiding places for all of it. You can't tell it is there except for the pigtail hanging down on the left side of the tag.
Well, I have uploaded all the images I can for this post, so I will post another thread about wiring the trailer hitch harness.
As to the Power Commander, It is awesome. I feel like it increased the power and acceleration at least 10 to 15%. I keep very accurate records of my gas mileage, so it will be interesting to see if that improved. The biggest surprise of all is that all the throttle herky-jerkiness is totally gone. The transition from off to on throttle is perfectly smoothed out and it is so much more rideable now. To me that is such a nice bonus.